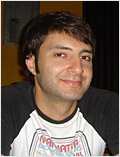 Mikhail Plishti/Master Hair Designer
Mikhail Plishti/Master Hair Designer was a stylist with Jacques Dessange, Paris, and Frederic Fakkai, New York.
Mikhail has worked with high profile clients such as: Scarlett Johansson, Heidi Klum, Kate Moss, Courtney love, Martha Stewart and many more!
In my world hair is not what I do it is who I am. I am an artist and my client is the canvas, to every great masterpiece there is an architect. I define my design philosophy as "individually modern." As a professional stylist of prestigious New York salons I have dealt with unique hair cuts that range from classy to chic. Since the beginning of my salon career at the age of twenty I have been committed to incorporating perfect texture into my hair designs for both men and women.Having worked in the beauty industry for over ten years I have gained experience working with all hair textures in styling and finishing. As a stylist, my goal is to guarantee clientele satisfaction. My quality and professionalism enhance my skills as an artist. There is an extraordinary pleasure in what I do; my creativity in style design is my passion.